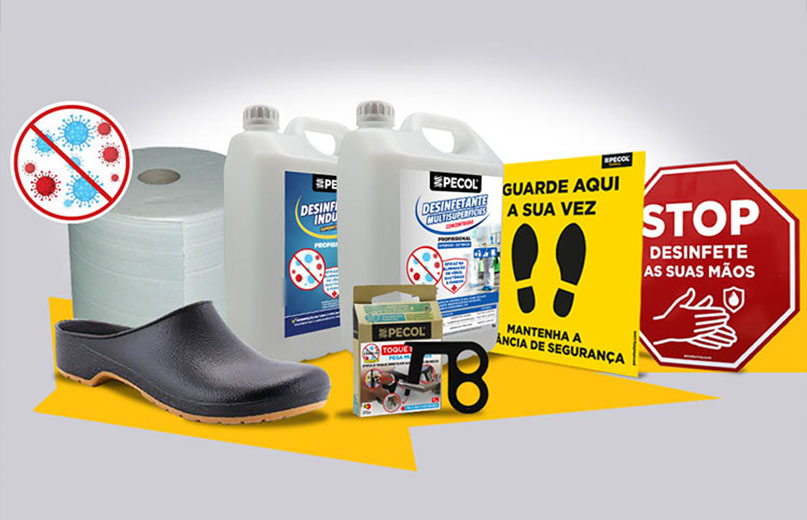 New products to protect your business and your family with maximum safety!
Constantly aware of the new reality that the world is going through, Pecol has its work focused on offering essential solutions for the daily protection of your business, your family, yourself.
The pandemic that we currently live requires extra protection, whether in your home or workplace. Continuing to invest in the quality and variety of our products, we develop new products, essential in the protection against viruses, bacteria and fungi. Get to know them:
Industrial Sanitiser 5L – Environmental Surfaces
Sodium hypochlorite based solution with 7% active chlorine to be used as a disinfectant.
Disinfection of different surfaces;
Eliminates viruses, bactéria, and fungi;
Highly concentrated solution.
Multi Purpose Cleaner 5L Concentrated Solution
Solution based on sodium hypochlorite with 5.5% active chlorine, to be used by professionals, as a surface disinfectant, both inside and outside.
Concentrated multi-surface disinfectant;
Ideal for disinfecting homes, schools, daycare centers, and industrial areas;
Eliminates viruses, bacteria, and fungi;
A concentrated solution to dilute with water.
Multi-Purpose Handle Safe Touch
Extremely lightweight Multi-Purpose Handle that allows you to perform tasks without touching objects. With support for opening doors and tips for use in ATMs.
Ideal for multiple tasks: opening bathroom doors, building entrances, refrigerator doors in the supermarket; enter the code at the ATM; call the elevator;
Two holes for placing the fingers;
Light and comfortable grip.
Work Clogs
Work clogs designed to offer maximum comfort, lightness, and protection.
Indicated for the areas of hotels and restaurants, health, cleaning, gardens, or environments with liquid substances on the floor or wet and/or just cleaned areas. Certified according to ISO 20347: 2012.
Machine washable up to 60º, without losing any of its characteristics;
High resistance to abrasion;
Non-slip design;
Reinforced impact absorption in the heel area;
Additional protection at the level of the toes.
Foot Operated Door Opener
Foot operated door opener for interior and exterior doors.
It allows the opening of doors without the use of hands in the usual handles, thus preventing the spread of bacteria and viruses.
Made of steel and with a zinc plated finish;
Measurements: 90x50x15mm
Includes 3 screws for wooden doors and 3 screws for aluminum doors;
Robust and easy to install.
Wall Signs
For placement on doors or walls, printed protection signs are the simplest way to signal your business establishment about safety and security rules.
It is available in the 200x200mm size and with two different messages.
Available in vinyl or Bi-Adhesive PVC plate (2mm);
High durability;
Good resistance to sunlight;
Easy application;
Strong colors, to capture the audience's attention.