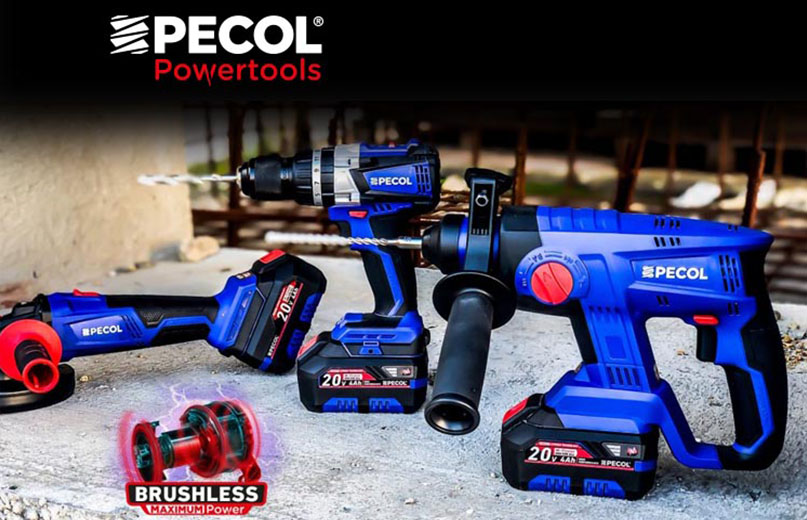 More power, performance and longevity with the new Pecol Powertools Brushless Range.
Developed focusing on durability and endurance, the new cordless tools powered machines focus on build quality, offering more power, performance and longevity. Cordless drill, SDS Plus cordless hammer and cordless angle grinder are the available products in this range, combining the latest technology with the best materials and manufacturing processes. This ensures top-notch performance and maximum robustness and reliability to surprise the most demanding professionals.
Get to know some of the main features of this range:
CORDLESS DRILL (COMBI BRUSHLESS 20V)
TECHNICAL FEATURES
Chuck with 2-13mm
3 modes
1.5kg weight
Electronic speed controller
LED auxiliary light
Metal belt hook
Electronic indicator of the battery status
Quick-release chuck (Jacobs)
CORDLESS HAMMER (SDS PLUS BRUSHLESS 20V)
TECHNICAL FEATURES
Dust cover
4 modes
2.2kg weight
360° adjustable rubber grip
Electronic speed control
Lock button and reverse mode
LED auxiliary light
Intelligent ventilation system
Quick drill change
CORDLESS ANGLE GRINDER (BRUSHLESS 125mm 20V)
TECHNICAL FEATURES
3 handle adjustment positions – quick adjustment
1.6kg weight
Restart protection
Easy handling – slim body
Diameter disc with 125mm
Quick release protective guard
High strength gears
Compact head
Thanks to the Smart Technology System by Pecol and with an ergonomic design, this is another range of the Pecol PowerTools brand that will surely add more convenience and performance to your daily work.
Some details are to last.