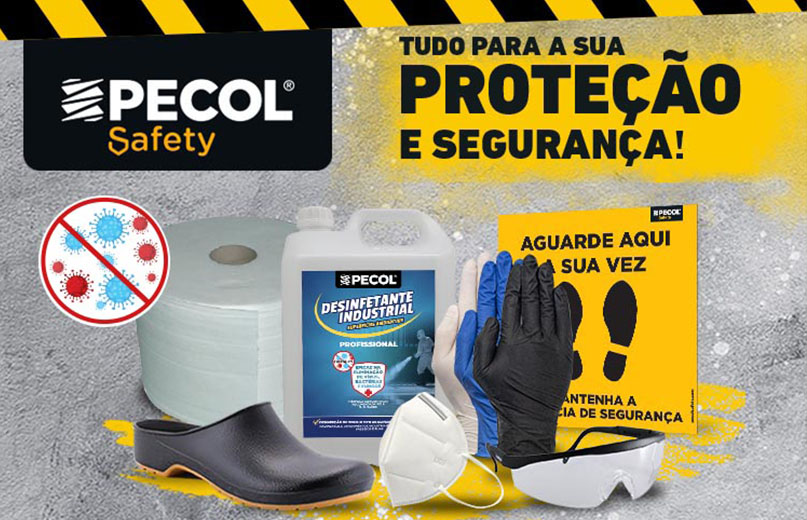 Discover the Pecol Protection Kit: Maximum security for you and your family!
Aware of the reality that the world is going through, Pecol has a range of products that are absolutely essential for you and your family to be protected.
More than being leaders in fastening systems, we believe in the need to reinvent ourselves to offer our customers the best quality and variety of products. Therefore, in order to overcome the pandemic that we currently live with maximum protection, we have a range of essential products available. Get to know them:
Safety glasses
Safety glasses developed in polycarbonate, with anti-scratch lenses, adjustable rods and side reinforcement for protection against projectiles.
Disposable mask
The disposable mask KN95 has a filtering efficiency that reaches 95%, which guarantees an effective protection of your respiratory health. It is made of cast fabric and with several layers of protection, multi-carbon and multi-filter. Waterproof and breathable, non-irritating, effectively isolates harmful particles and prevents droplets.
Floor signage
Sold in packs of 5, this sign is printed on high durability vinyl, is non-slip and has good resistance to wear and sunlight.
Disposable gloves
The multi-purpose protective gloves, made of fine powder-free disposable nitrile, offer superior protection and excellent wear resistance, ensuring high elasticity and comfort. These gloves have certified protection against viruses and bacteria and are available in boxes of 100 units or blisters of 10 units.
Industrial disinfectant
This disinfectant solution is made with sodium hypochlorite with 7% active chlorine, has oxidizing, disinfectant and bleaching properties. It can be used to disinfect industrial floors, hospital disinfection, sidewalks, among others. Because it is a highly concentrated solution, it is extremely effective in eliminating viruses, bacteria and fungi. Available in packs of 5 liters, it is a concentrated formula ready to be applied and which complies with the recommendations of the General Health Directorate.
Counter / table screen
Acrylic cover with 98x75cm for personal protection on different commercial surfaces. It has a 40x20cm cutout for passing ATMs, documents or products. This guard is easy to install and has a secure and removable fastening system.
Paper rolls
More than ever, you should avoid using towels at this time, both when cleaning your hands and on different surfaces. For this reason, paper rolls are essential to ensure safety in the performance of any function. With double and disposable sheet, it provides greater resistance and absorption. They are available in packs of two.
Hand sanitizer
Formulated in accordance with the recommendations of the General Health Directorate, the hand sanitizing gel is made up of 70% alcohol and 3% hydrogen peroxide. Contains moisturizing agents to maintain healthy skin and is available in 100ml and 250ml packages.
At this time, in which country is going through one of the greatest outbreaks in human history, it is crucial to protect yourself and your family. Do not take unnecessary risks. Your health first, always!